Microsoft Excel Tuition
From farming to finance, and from catering to carpentry, every industry seems to use spreadsheets, and Microsoft Excel has proven itself unequalled in reliability and functionality. A person who 'knows Excel' completes projects more quickly and efficiently, can find ways of automating lots of data processing tasks, sets up systems which colleagues and clients can both benefit from, and can carry out sophisticated analysis of data with the minimum of effort.



Whether you want an introduction to the basics of spreadsheets, or were hoping to gain insight into some of the more exciting and powerful functions and capabilities of this impressive program, or even just need help working on a specific project, I will do my best to help you achieve your goals.

I live in Bingham, Nottinghamshire, and can tutor at your home or mine.
£40 per hour
I tutor at my home, or online via Skype.
Call me on

0770 4321 151

or email anthony@thechalkface.net
My background



I have been working with spreadsheets for over 10 years, both for fun (yes, you can make games in Excel!) and for work. I'm self-taught, and have designed spreadsheets for a wide variety of purposes. The more I learn, the more I realise there is to learn, so although I would consider myself an advanced user, even I cannot claim to be using Excel to its full capacity (see disclaimer at the bottom about programming).


To date, I have generated around 100 custom spreadsheets for use in the Maths classroom, from Pythagoras' Theorem to the A-level Exam Questions Index, in addition to many, many more for such varied applications as record-keeping, budgeting, project management, and even cattle rationing. The beauty of Excel is that it provides you with a powerful tool while at the same time presenting an elegantly simple interface. You can use it as little more than a framework for tables of numbers, or you can turn it into a custom program for recording and analysing data that users won't even recognise as a spreadsheet, and practically anything in between.

For some more examples of spreadsheets I've created, see this sample of my ICT Maths teaching resources. Note: some of these spreadsheets will require you to enable macros (see: Why and how should I enable macros?)

Common topic areas for study:
When you arrange a tutoring session, it may be beneficial to arrange beforehand exactly which areas you would most like to work on, so that you get the most out of the time. For the same reason, it is recommended that you bring your own laptop so that we can work on two machines and you get to practice with the version of Excel which you will be using in the future.
We can do a general overview of each of these, assessing your current level of understanding and building on that, or you can pick just one or two areas to focus on - it's entirely up to you.


You are of course welcome to ask about anything Excel related, but to help you get started I've put together a checklist of what I consider to be key topics to get you started. Click the screenshot below to download the Excel version (you can fill it in and alter it as you go, keeping track of your progress), or to just have a read through, here's a
pdf version
.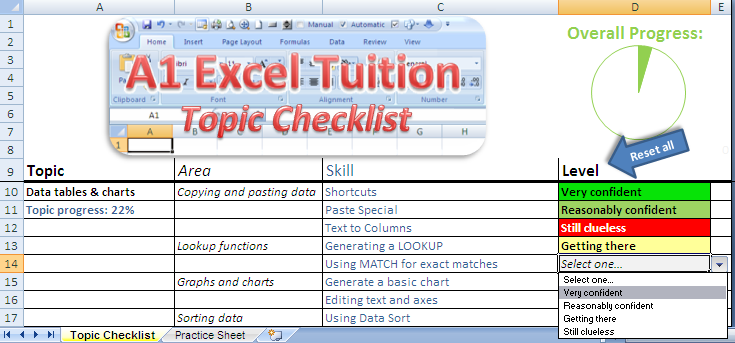 I can also help you work on a particular project, designing a spreadsheet for a specific purpose. However, it is important to note that the primary service I offer is designed to help you to understand and use Excel, equipping you with the tools to design and maintain your own spreadsheets, and while I am more than happy to work with you on a project and help you overcome problems, I won't normally just produce a ready-made spreadsheet for you. The advantage of making one yourself is that you understand how it works, are more likely to be able to fix any issues that crop up, and will be able to modify and extend it as the needs of the project change (as they so often do). Having said that, if you want a custom spreadsheet for a specific task and want it done for you rather than trained how to make it yourself,
get in touch
and I may be able to help you out.
Just to clarify...


I am not a computer programmer, I'm a Maths teacher. This means if you want more than a beginners introduction to VBA (the programming language behind macros), I'm not the right man for the job. If you want to find out more, might I suggest the marvellous resource of Ozgrid, a massive online forum and general repository of knowledge, frequented by people even higher up the Excel ladder than me, where you can usually find answers to questions you might have about Excel. As a general rule, if you're wondering if it can be done in Excel, the answer is probably yes, and how to is probably on Ozgrid.