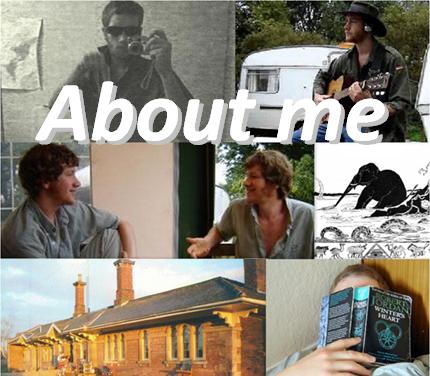 (last updated: 06/02/12)

I'm a young maths teacher. If that didn't put you off, I've worked as a farm labourer, silver-service waiter, engineering technician, blue-cheese-factory hand, delivery boy, personal tutor, canoe builder and missionary-at-sea.


Currently working as a Maths teacher in Kenilworth, if you want an up-to-the-minute (or at least up-to-the-month) account of my various adventures, check out my blog, Footnotes (so named for my - increasingly erstwhile - shoeless tendencies).
I hail from Brooksby, which boasts a once-Agricultural College and maybe a dozen houses.

Our family home is an old station building you can read about under My Place.

My brother, my dad and I built a shack in the garden out of reclaimed timber to live in once Small was born and moved into our bedroom. You can read about how we did it at My Shack.
The elder of my two little brothers came out alive on the far side of Sussex University after a productive three years of Various Activities and the occasional Philosophy or Politics essay. My older sister spent some time teaching English in China and is now teaching English as a Foreign Language in 'the city' as these Londoners call it. Small, the youngest brother, has a murky past of home education which is standing him in good stead for whatever the future may bring.
My school career culminated in a bunch of mathsy sciency A-levels. Besides getting me into University, they gave me the wherewithall to grace the world with a piece of Physics coursework which seems to be quite popular with people searching for Damped Oscillation graphs and suchlike, although probably numbingly mundane for anyone who, for whatever reason, is not searching for damped oscillation graphs. Takes all sorts. One of my best memories of A-levels, however, comes from revising Biology. I spent a gloriously Huck Finn-esq few weeks up the river in my canoe, with a token biology text book in the bottom of the boat, swimming and dozing in between flicking through pictures of kidneys and hexose sugars. Probably cost me my A-grade, but nobody likes a straight-As student, right? More about our river, the Wreake, in My Place.
One of my earliest boating experiences was helping my dad make a canoe for my birthday. I must have been quite young, because it was only about 4 ½ ft long. He's been at it for years, and I think it's safe to say he's getting pretty good. They certainly don't look like floating boxes any more. He's sold a few on ebay, and runs canoe building weekends for people. I even made and sold one myself for the first time in 2006, to raise money for a mission trip to Montenegro in the summer. First out of necessity, and later out of perhaps a perverse desire to stand hopelessly by the roadside in the rain, I became a member of the hitch-hiking community, and my housemate Colin and I undertook an epic sponsored hitch-hike to Scotland as part of our Montenegro trip fund-raising.
After A-levels I did a year working in industry with The Year in Industry (www.yini.org.uk) which was a brilliant experience, but nevertheless confirmed my decision to find a non-industrial career. You can see what I got up to here: My Year in Industry
I am a Christian, and as this is the most important thing in my life, you can read all about it on a separate page: My Faith
I may not be a brilliant book reader, but I am a brilliant book reader, and I've made a list of some of what I consider brilliant books. You might find these interesting: My Books
I am a fairly well-rounded individual, and scattered among these pages you will find interesting spreadsheets created in Excel (although more of my most recent creations will now be found in my Maths Resources section), and a bunch of guitar chords on the My Music page. Once I tentatively dipped a virtual toe in the rip-tide of amateur video editing I was hooked, and I've set up a link page to the videos I've created: My Videos.
I was very chuffed to be allowed a link from Wikipedia to a page I created in homage to Mr Bean's Teddy - he seems to be a popular character throughout the world.
Finally, in addition to being a full-time maths teacher, I offer personal tuition for anything from 11+ to A-level Further Maths and Graduate Numerical reasoning. Access my page here: The Chalkface Tutoring